For over thirty years, Raven has dominated the application control market. Our blockbuster new product ensures this legacy will continue. The Hawkeye Nozzle Control System is the newest innovation in Raven technology – and the next application control system for your sprayer.
The Hawkeye Nozzle Control System is ultra-precise. Dieses druckbasierte Regelsystem ermöglicht eine akkurate Anwendung von Feldspritzen unter verschiedensten Bedingungen, verringert Abdrift und sorgt für eine maximale Effizienz aller Düsen. Each nozzle is controlled by its own individual pulsing valve giving you a consistent spray pattern as speed and conditions change.
The Hawkeye System is built on the ISOBUS communication platform which allows it to work with ISO Task Controllers, including the Viper® 4+.Hawkeye has also been tested for shock, vibration, impact, and weather resistance in rugged terrain and extreme temperatures. Its durability is unparalleled.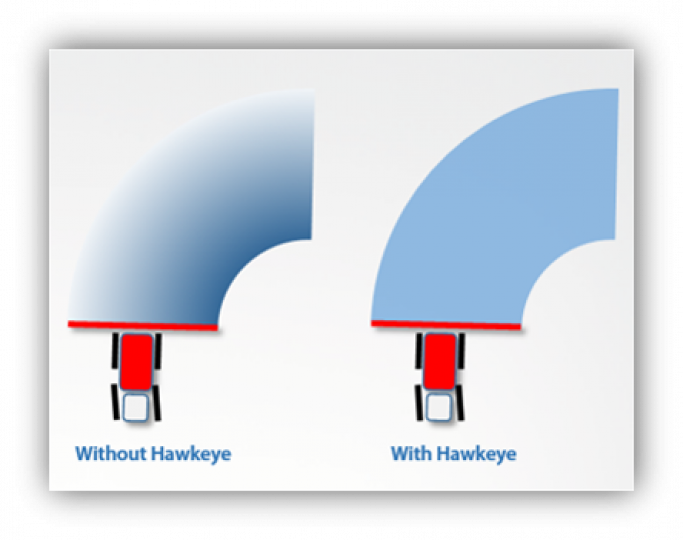 Benefits & Features
Precise application rate in a variety of conditions
Consistent coverage
Wide speed range
Ability to manage drift and off-target applications
Accurate droplet size and placement
Nozzle-by-nozzle turn compensation standard
Extended range out of each nozzle
Blended pulse application
Fully integrated with machine application control systems
One control module per system
Simple and clean installation, setup, and calibration
Ventildiagnosesysteme überwachen jede Düse und warnen sofort bei Systemproblemen
Mapping and data logging of each nozzle for more accurate record-keeping
Adjustable pressure on the fly including 2 preset pressures
Base Package Features
Bonus Features
Ease of Use
Hawkeye HD
Virtual Section Capability
Sidekick Pro™ Direct Injection Compatibility